Unawatuna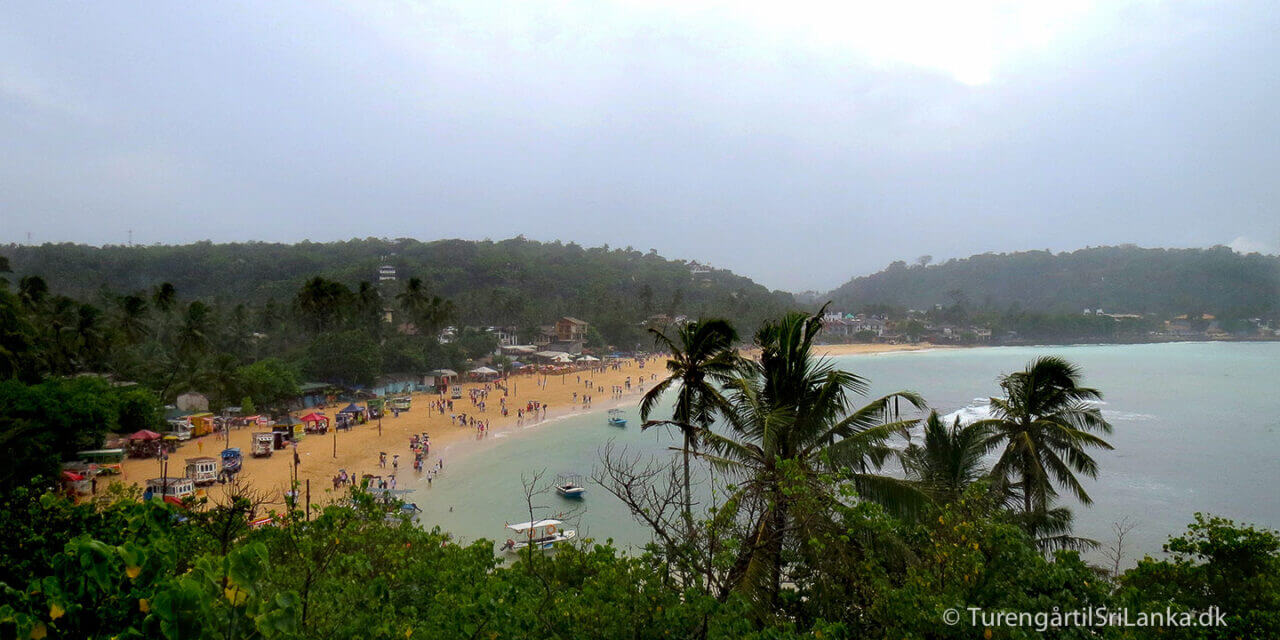 Unawatuna på en overskyet dag
Unawatuna – Det ideelle sted for en badeferie
Unawatuna er en relativ stor by beliggende på Sri Lankas sydkyst. Byen er bedst kendt for de vidunderligt smukke strande, der har været udnævnt som nogle af verdens bedste.
Byen blev hårdt ramt af Tsunamien i 2004.
Som i alle andre strandbyer er der mulighed for at bade, snorkle, dykke og surfe.
Havet er fuld af farvestrålende fisk, søheste, havskildpadder og skibsvrag, så der er noget at kigge på. Vær opmærksom på at stranden i Unawatuna hurtig bliver dyb.
Seværdigheder i Unawatuna
Buddhistisk Tempel
Der er et lille buddhistisk tempel og en stor buddha, der vogter over Unawatuna, i den vestlige ende af stranden. Det er ret nemt at finde, for man kan se det fra stranden. Der går en stejl vej op til templet, hvorfra kan man tage billeder af hele Unawatuna stranden.
Jungle Beach
3 km fra Unawatuna ligger Jungle Beach, en lille isoleret strand med svajende kokospalmer, aber og en meget autentisk tropestemning. Navnet har den fået fordi stranden er omgivet af jungle. Har du din snorkel med på ferie, er det her du skal bruge den.
The Japanese Peace Pagoda
Fra Jungle Beach kan du gå over til The Japanese Peace Pagoda. En gave fra japanerne.
Udsigten er smuk, herfra kan du se ud over det Indiske Ocean, og helt til det hollandske fort og havnen i Galle.
Hvordan man kommer til Unawatuna
Unawatuna ligger 155 km syd for Colombo Lufthavn og 5 km syd for den travle havneby Galle, Det er nemt at komme her til fra lufthavnen.
Den hurtigste måde er ved at hyre sin egen chauffør og køre ad The Southern Expressway. Turen tager ca. 3 1/2 time. Der er en lille highway charge på Rs 600.
Hvis du vil rejse med toget, skal du først tage bus eller taxi til Colombo Fort Railway Station, og derfra kan du tage toget til Unawatuna via Galle.